Welcome to the First Player Token podcast, a short podcast for people who enjoy playing board games with family and friends. If you'd love to try a few new games, but you feel a little overwhelmed when you see the board game aisle at Target or Barnes & Noble, this podcast is for you.
In each episode, I recommend a game that's been a hit with my family or friends, sharing a bit about how the game plays, why it's fun, and why you might want to try it. Most episodes feature a special guest or two, maybe one of my children or a niece or nephew or my wife Emily, who provides color commentary. (She's a painter and has lots to say about the art and design in the games we play!) Episodes are geared for folks who aren't already into board gaming as a hobby; I don't assume you've played a lot of games or know the lingo. And episodes are short, usually around ten minutes, so you don't have to spend a lot of time getting a recommendation.
I played a lot of classic board games while I was growing up—Monopoly, Sorry, Clue—but when I found the 1995 German game Settlers of Catan in college, I realized how much fun modern board games could be. I've been growing my collection of board games and hosting game nights with friends ever since. And as soon as my kids were old enough, I started playing board games with them, too. Spending quality time with my kids is really important to me, and board games have provided so many good memories over the years. I've posted enough photos of family game nights to social media that my friends often ask me for board game recommendations. I've shared some recommendations on my blog, but I thought it was time to reach out to new audiences and start a podcast.
There are lots of ways to listen to the podcast. You can listen here on the website, search "First Player Token" on your favorite podcast app, or find the podcast on one of these apps:
Here's the podcast's RSS feed for those who know what to do with that.
Join the conversation about family-friendly board games in the First Player Token Facebook group, or connect with me on Twitter (@firstplayrtoken) or Instagram (@firstplayertoken).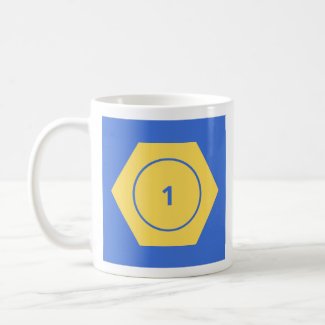 Order your own
First Player Token coffee mug
!